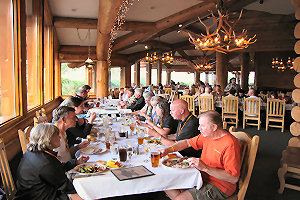 Event Registration
Registration for TT West 2015 will include participation in all event activities for the entire week. There will be no partial registration. All park entrance fees are on-your-own.
Event Registration Includes: Name badge with lanyard; one registration package with maps, driving directions and schedule (primary attendee only); Sunday evening welcome reception; Wednesday evening group dinner; Friday evening closing group dinner plus access to hospitality suite during the week (beer and wine provided). All taxes and gratuities included.
Deadlines for Registration: Regular registration ends on Wednesday December 31, 2014 midnight PT. Extended registration runs from Thursday January 1, 2015 and promptly ends on Monday March 23, 2015 midnight PT.
Registration Level
On or Before
Wednesday December 31, 2014
On or After
Thursday January 1, 2015
Primary Attendee (Full Week)
$139
$159
Guest Attendee (Full Week)
$129
$149
Please see the Schedule of Activities for more information and details.
Registration Form
*** We're sorry, but registration for TT West 2015 is now closed. ***