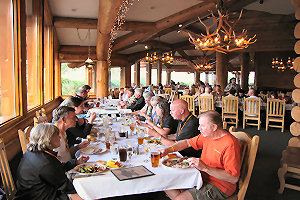 Event Registration
Registration for TT West 2015 will include participation in all event activities for the entire week. There will be no partial registration. All park entrance fees are on-your-own.
Event Registration Includes: Name badge with lanyard; one registration package with maps, driving directions and schedule (primary attendee only); Sunday evening welcome reception; Wednesday evening group dinner; Friday evening closing group dinner plus access to hospitality suite during the week (beer and wine provided). All taxes and gratuities included.
Deadlines for Registration: Regular registration ends on Wednesday December 31, 2014 midnight PT. Extended registration runs from Thursday January 1, 2015 and promptly ends on Monday March 23, 2015 midnight PT.
Registration Level
On or Before
Wednesday December 31, 2014
On or After
Thursday January 1, 2015
Primary Attendee (Full Week)
$139
$159
Guest Attendee (Full Week)
$129
$149
Please see the Schedule of Activities for more information and details.
Registration Form
To register for TT West 2015, please complete the form below. You can register yourself and one guest.
NOTES:
Fields marked with an asterisk (

*

) are required.
There is no on-site registration at the event. You must register online using the below form.
Extended registration will close promptly on Monday March 23, 2015 midnight MT, or when registration limits have been met, whichever comes first.
Event registration fee does not automatically reserve a room at any hotels. Please see the Event Accommodations section of this web site for further information.
Please see the Cancellation and Refund Policy for more information.
Please note that event registration payments will only be accepted via Paypal, but you do not need a PayPal account to make payment as the invoice page will give you the option to pay via credit card. However, if for some reason you are unable to make payment via PayPal, please contact us for other payment options.
The total amount due is required within two weeks from the date of your registration, otherwise your registration may be subject to release.
Please review and verify information for ALL fields before submitting.