Welcome to TT West 2014 - Great Cars, Great Wines, Great Times...
Audi TT owners are invited to participate in the longest running annual Audi TT owner's driving event in the western half of the US. The TT West 2014 "Pacific Coast Highway Tour" event is being held from Sunday September 28, 2014 to Friday October 3, 2014 starting at the Sea Otter Inn near the town of Cambria, California on the beautiful Pacific Coast.
The highlight of this year's event is a spectacular drive along California's Pacific Coast Highwaywhich most driving enthusiasts call the most scenic ocean drive in the entire US. Follow that up with a drive on the Monterey Peninsula through one of the most beautiful and storied areas that includes Pebble Beach, Spyglass and Cypress golf courses. Then add visits to an elephant seal rookery, stops at a multitude of vineyards and a tour of the historic Hearst Castle and you have a trip you will long remember.
The trip starts on Moonstone Beach near Cambria and ends in scenic Carmel with plenty of time to explore. A non-refundable $30 per person registration covers the group's entrance fee to Hearst Castle and everything else will be on-your-own/pay-as-you-go. Spaces are limited, so please register today!
Race Fans: The SCCA Championship races at Laguna Seca race track near Carmel start the following Monday.
TT West 2014 Itinerary - California Dreaming...
We start on the boardwalk on Moonstone Beach which is adjacent to the town of Cambria and is about half way between Los Angeles and San Francisco. The host hotel will be the Sea Otter Inn on Moonstone Beach (Google Map). This is a small boutique hotel just steps from the beach and boardwalk. The rates are about $127* and $135* a night, depending on the room type for Sunday and Monday night. If you want to arrive Saturday, the rates for that night are about $175* and $183*.
*Plus local taxes and other fees.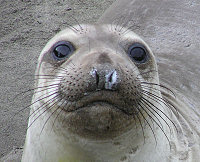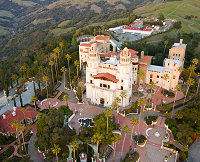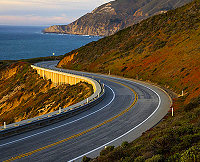 Sunday September 28, 2014

2:30 PM to 3:00 PM - Event sign-in in hotel lobby.
3:30 PM - Optional drive to Harmony Cellars winery for tasting ($5 fee if you wish to taste, $7 if you want to keep the souvenir glass.).
Monday September 29, 2014

9:00 AM to 10:00 AM - Event sign-in in hotel lobby.
10:30 AM - Departure.
The first stop is the very interesting Piedras Blancas elephant seal rookery to see these sea creatures in their natural habitat. Then we go to the Hearst Castle visitor center for lunch. The Castle has great vistas, interesting art, and impressive architecture. The playground of powerful publisher William Randolph Hearst, the castle was constantly visited by the rich and famous of Hollywood during the Golden Era. At 12:45 we will see an introductory 40 minute movie and then depart for our group tour by bus. After the tour you are free to walk the grounds as long as you like.
Tuesday September 30, 2014

9:30 AM - Drive the fantastic Route 1 Pacific Coast Highway (locally named the Cabrillo Highway) to Carmel, CA. Stops at Ragged Point (sightseeing and coffee), Big Sur (lunch), and other stunning vistas.
Afternoon - Arrive at the Best Western Carmel Bay View (about $143/night plus taxes) in downtown Carmel. This great location is only about a block away from all the shops and restaurants on Ocean Drive.
Wednesday October 1, 2014

10:30 AM - We motor the fantastic and famous 17 Mile Drive ($10 fee) home of the Pebble Beach, Cypress Point and Spyglass golf courses. We stop for lunch at the famous Pebble Beach Lodge.
Thursday October 2, 2014

Morning on your own. Point Lobos State Natural Reserve is highly recommended.
1:15 PM - Spirited drive through the Carmel foothills ending in Carmel Valley Village which has over a dozen wine tasting rooms (each has their own fee).
Evening - Farewell no-host dinner in Carmel at time & location TBD.
Friday October 3, 2014

Safe travels home!
Please note that times and events are subject to change.
TT West 2014 Event Registration
To register, please send an email to Larry Brickner at brickner@lasvegas.net and put TT West 2014 in the subject line of the email.
Larry will reply to your email with a registration form and payment information. The last day for registration is August 30, 2014. Spaces are limited so sign up now.
Hotel Reservations
Moonstone Beach is adjacent to the town of Cambria and the host hotel is the Sea Otter Inn on 6656 Moonstone Beach Road. Call the reservation center at 800-966-6490 or the Inn itself at 805-927-5888. Ask about the cancellation policy which is 72 hours without any penalty, and penalties thereafter.
Note: Check-in is 3 PM. The hotel has promised us priority on any rooms that are available before that time for early check-in on Sunday. However, there are no guarantees that any will be available early.
This is a small boutique hotel of only 25 rooms that has a high satisfaction rating by Trip Adviser. All rooms have fireplaces. Some have patios. As with most hotels in the area, there is no air conditioning. I'm told that "ocean view" rooms, which we have not reserved due to their price, do not have an unobstructed view of the ocean. Continental breakfast items are provided free in the hotel lobby that you can take back to your room.
Carmel. Best Western Carmel Bay View on Junipero in downtown Carmel. Free full breakfast included. 48 hour cancellation policy.
This great location also has high satisfaction scores by Trip Advisor and is a "best buy" for Carmel. It is only about a block away from all the shops and restaurants on Ocean Drive.
All Audi owners and enthusiasts are welcome to attend!
Even if you do not own an Audi TT, we welcome all Audi owners and enthusiasts. We hope to see you there!