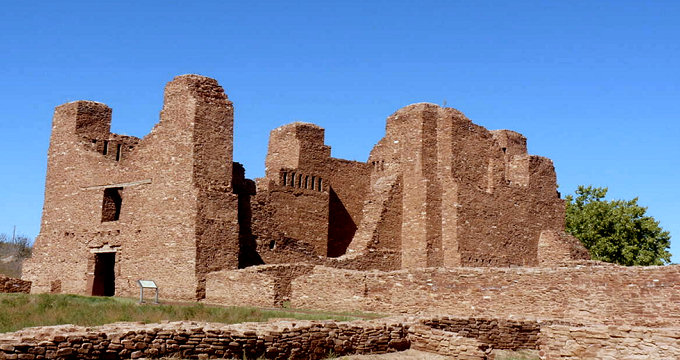 Join Us for TT West 2023 from May 7 to 12, 2023!
This 1300 mile trip in the region explored by the Spanish Conquistadors in the 16'th century covers some of the most scenic and challenging roads in Arizona and New Mexico. TT West will begin on Sunday in Winslow Arizona with an optional afternoon 170 mile drive that will take us through the Navajo Nation to the Hopi Reservation which was likely some of the fabled Seven Cities of gold where their golden stucco dwellings were mistaken for the precious metal. The Hopi pueblos are the oldest continuously inhabited settlements in the USA. We will have a guided tour of one of the ancient Hope villages. The host hotel in Winslow is another special attraction, the historic La Posada Hotel which we visited at the end of TT West 2021.
On Monday we drive a central Arizona 210 mile circle route that features stops at the ancient Native American cliff dwellings of Montezuma's Castle National Monument and a lunch in the incredible red rock vistas of Sedona. We will add an afternoon stop at either Meteor Crater, Walnut Canyon National Monument (ancient ruins), or Homolovi State Park (ancient ruins). The selection will be voted by the participants.
The Tuesday 325 mile drive has us heading east to along the eastern edge of the Arizona border on our way to Silver City NM. It features the Rt.191 Coronado Trail Scenic Byway which was named after the Spanish explorer Francisco Vasquez de Coronado who explored this area in 1540 on a quest to find the Seven Cities of Cíbola. It is one of the highest elevation roads in Arizona, features 460 curves over its 120 miles, and is the least traveled federal highway in the USA. Perfect for fun!
The Wednesday 210 mile drive to Alamogordo NM features more twisties on the Rt 152 Geronimo Scenic Byway and a stop to see the White Sands Missile Range Museum.
On Thursday we drive 160 miles to see the sights around Alamogordo. We spend the morning exploring the high sand dunes at the White Sands National Park. We return to Alamogordo for lunch and then do a round trip with more mountain twisties on Rt 82 through the Lincoln National Forest.
TT West ends on Friday with a 215 mile drive featuring stops at the ruins of the original Spanish missions that make up the Salinas National Monument, followed by more twisties through the Monzano Mountains to our final destination of Albuquerque.
TT West registration is limited to 20 cars. People on the TT West mailing list get a chance to register before registration is open to the general public. Registration is now open.